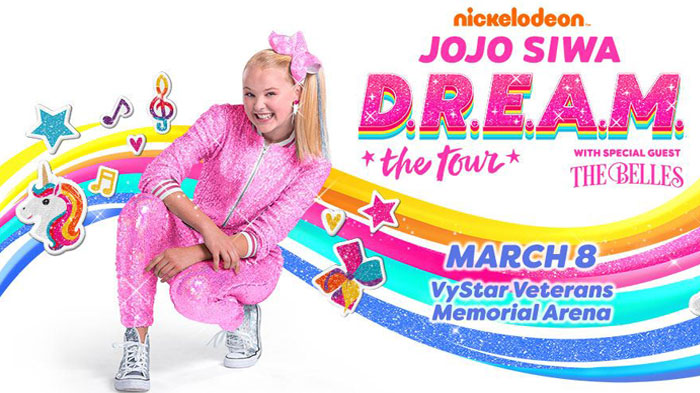 Nickelodeon's JoJo Siwa D.R.E.A.M. The Tour
JoJo Siwa's show originally scheduled for May 28, 2020 and August 7, 2021 has been rescheduled to March 8, 2022. All tickets purchased for the originally scheduled date are still valid. For additional information about this rescheduled event, CLICK HERE.
Nickelodeon superstar JoJo Siwa is a YouTube sensation, pop star, dancer, entrepreneur, social media influencer and The New York Times bestselling author. Siwa connects with her fans through many channels: via social media she has over 10.4 million subscribers with over 2.6 billion views on YouTube, she has over 8.9 million followers on Instagram, over 439,000 Twitter followers, over 17.3 million followers on TikTok(formerly Musical.ly), and over 596,000 followers on Facebook; through her SIWANATORZ club, which stands against negativity and bullying; through her global reach of consumer products including her signature bows, accessories, apparel, arts and crafts, cosmetics, home goods and party supplies; and with her hugely popular singles, "Boomerang," which has been viewed over 782 million times and RIAA certified platinum, "Kid in a Candy Store," which is RIAA certified gold, "Hold The Drama", and "D.R.E.A.M".